⭐️⭐️⭐️⭐️⭐️

"It extended our growing season from 6 to over 9 months."

Slava Placek, Maple Ridge, BC

Read full review

⭐️⭐️⭐️⭐️⭐️

"We can get fairly large snowfalls here & I don't have to worry about that."

Terry Heinricks, Terrace, BC

Read full review

⭐️⭐️⭐️⭐️⭐️

"It provides a more stable environment despite our unpredictable weather."

Lori Bott, Cranbrook, BC

Read full review
Heavy-Duty Greenhouse Kits for West BC
Give your plants the opportunity to thrive in the perfect growing environment. With its ability to withstand heavy snow, relentless rain, and gusty winds – Planta Greenhouses are the ultimate backyard growing solution that will protect your plants and transform the way you garden.

We have a community of hundreds of passionate greenhouse owners all across West BC, like Nelson, Crescent Valley, Castlegar and else.
Suggested Greenhouses for West BC
Planta Greenhouses are loved by growers throughout West BC, in areas such as Balfour, Pass Creek, Vallican and beyond. Browse through some of our most popular greenhouses below and call us if you have any questions.
Size: 10' × 13' × 8'

Regular price

$3,300 CAD

Save $200

Sale

Sale price

$3,100 CAD

Unit price

per

Sold out

Size: 10' × 13' × 7'

Regular price

$2,950 CAD

Save $200

Sale

Sale price

$2,750 CAD

Unit price

per

Sold out

Size: 10' × 6.5' × 8 '

Regular price

$2,450 CAD

Save $100

Sale

Sale price

$2,350 CAD

Unit price

per

Sold out
Snow & Wind Resistant
Snow load up to 98 psf
Withstands a snow load of as muсh as 98 psf (480 kg / m²) and is maintenance free in the winter
Wind resistance of 65 mph
Sturdy greenhouse construction that resists winds up to 65 mph (100 km/h)
Why Planta Greenhouses
Increase your yield, extend the growing season, and allow your plants to flourish. Planta Greenhouses utilize innovative engineering and clever construction to create one of the most durable, versatile, and cost-effective greenhouse kits for urban and suburban gardeners.
Heavy Duty

We use heavy duty 6mm Polycarbonate Panels on all models

Galvanized Steel

Our heavy duty galvanized steel frames are durable as they are functional

Length Extension

Greenhouses can be extended up to 100 feet in length.

UV Protection

Planta Greenhouse Panels provide 100% protection against UV rays

Maintenance-free

Our heavy duty galvanized steel frames are durable and rust-resistant

Made in Europe

Planta Greenhouses are manufactured in Europe and exclusively imported
Explore Our Most Popular Backyard Greenhouses
Enjoy Growing in West BC With Planta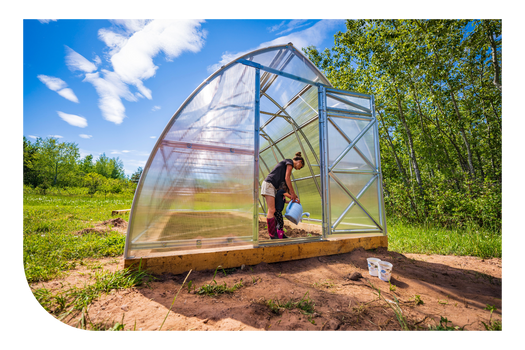 Planta Greenhouses brings the power of a commercial structure into a compact and affordable design.
In addition to heavy-duty construction, Planta Greenhouses also come with up to a 10-year warranty. Join 1000s of satisfied gardeners in West BC & Canada, and let this year be the year that you take your gardening passion to new heights.

Supplies are limited for the remainder of this year's season. Order now, so you don't miss out.
Reviews From Planta Owners around West British Columbia