⭐⭐⭐⭐⭐
"Avec la serre tomates et poivrons sont un succès cette année."

⭐⭐⭐⭐⭐
"I can start 2 weeks earlier in spring and get 2 more weeks in the fall."

⭐⭐⭐⭐⭐
"Our vegetables are protected and are not being eaten by animals."
Heavy-Duty Greenhouses for Montréal Winter
Are you searching for a durable greenhouse that can withstand the tough winters in Montréal? Planta Greenhouses are designed to stand up to wind, rain, and snow – keeping your plants safe and allowing you to extend your growing season into the colder months.
We have countless delighted greenhouse customers throughout Montréal, including Saint-Jean-sur-Richelieu, Sherbrooke, and other cities.
Greenhouses Ideal For Montréal
Planta Greenhouse kits are popular among gardeners in Montréal, in areas such as Québec City, Trois-Rivières, Saguenay, and countless other areas not far from Montréal. Discover a few of our greenhouses below and give us a call for questions.
Size: 10' × 13' × 8'

Regular price

$3,300 CAD

Save $0

Sale

Sale price

$3,300 CAD

Unit price

per

Sold out

Size: 10' × 26' × 8'

Regular price

$4,950 CAD

Save $200

Sale

Sale price

$4,750 CAD

Unit price

per

Sold out
Snow & Wind Resistant
Snow load up to 98 psf
Withstands a snow load of as muсh as 98 psf (480 kg / m²) and is maintenance free in the winter
Wind resistance of 65 mph
Sturdy greenhouse construction that resists winds up to 65 mph (100 km/h)
Why Planta Greenhouses
Planta Greenhouses is an excellent choice for all-season gardening in Montréal. The innovative design makes it one of the most durable, adaptable, and cost-effective greenhouses on the market for year-round growing in even the harshest climates.
Heavy Duty

We use heavy duty 6mm Polycarbonate Panels on all models

Galvanized Steel

Our heavy duty galvanized steel frames are durable as they are functional

Length Extension

Greenhouses can be extended up to 100 feet in length.

UV Protection

Planta Greenhouse Panels provide 100% protection against UV rays

Maintenance-free

Our heavy duty galvanized steel frames are durable and rust-resistant

Made in Europe

Planta Greenhouses are manufactured in Europe and exclusively imported
Explore Our Most Popular Backyard Greenhouses
Enjoy Gardening in Montréal With Planta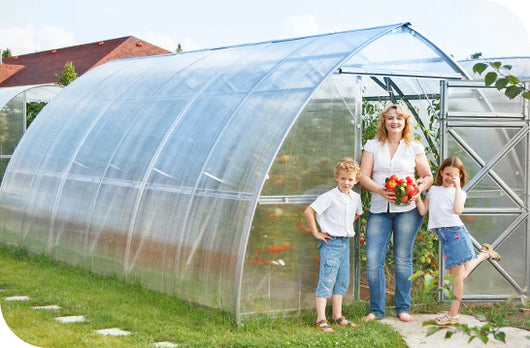 Planta Greenhouses packs the strength of an industrial farming greenhouse into a compact and affordable design for urban and suburban backyards across Montréal.
With countless features and up to a 10-year warranty, it's no surprise that Planta Greenhouses has 1000s of happy customers throughout Montréal and the rest of Canada.

So let this year be the year you take your gardening passion to the next level. Be quick and order today – stock is limited for the remainder of the season!
Read Reviews From Planta Owners in Montréal